11. RAHVUSVAHELINE PÄRNU FILMI- JA VIDEOFESTIVAL 2005 "REGIONAL SETTINGS"

.OSALEJAD / participants .....PRESSITEADE.....täpnePROGRAMM/precisePROGRAM


Workshopid:.................................................

13. – 14. 10. Academia Non Grata, Suur-Posti 16, Pärnu.
KinoKabaret: ANNA SCHENK, CONSTANZE BERSCHUCK, ARMIN MOBASSERI (Saksamaa)
WORKSHOP, tulemused esitatakse festivalil Pärnu programmis.
REGISTREERUN OSALEJAKS

15. 10. kl 12.00 - 17.00 o'clock Pärnu Avatud Noortekeskus Che, Metsa 16, Pärnu.
Animatsiooniworkshop noortele. Juhendaja Piret Pusa Torim.
Animatsiooni workshopi raames tutvustatakse lastele lihtsaid mooduseid multifilmide tegemiseks. Vahenditeks on värvid, paber, plastiliin ja palju muud. Osaleda saavad lapsed alates pliiatsi-pinstli käeshoidmise oskuse vanusest.
REGISTREERUN OSALEJAKS

Filmi- ja Videoprogramm:

LAUPÄEV/SATURDAY, 15.10.2005 PÄRNU RENT CLUB Uus tn/Str 10
12.00 - Festivali avamine / opening. Opening performance by Don Chaos and Rubens.

12.30 - AKKRAAK film (Germany) "Bavarian meeting" 12 min

12.45 - Independent Exposure
14.15 - HUMAN RIGHTS REGIONAL
LEE Mario (S-Korea) <Rip it up!>, 2001 Duration : 45m

15.00 - RAIVO KELOMEES PRESENTS: TARTU KÕRGEM KUNSTIKOOL / TARTU ART COLLEGE 2005

15.40 - INTERNATIONAL PERFORMANCE SOUP

17.20 - INTERNATIONAL VIDEO PODRRIDGE

19.00 - Piret Saarepuu presents: EESTI NUKUFILM / ESTONIAN PUPPET ANIMATION - "Piksillatsioon"

19.30 - JELENA VESIC (SERBIA) PRESENTS: AV-WORLD OF BALKAN

20.30 - Kino Kabaret

22.00 - Sauna + Antanas Jasenka live-concert + "Boarding Pass" Electronic music consists from two
parts: Out In and In Out. Music: Antanas Jasenka Animation: Dziugas Katinas

16. oktoober kl 15.00 – 21.00 – Tallinna Kinomaja

12.00 - Väljub buss Pärnust Tallinna - pilet 25 eeku / Charter bus form Pärnu to Tallinn 14.45 - Opening performance by Don Chaos (Berlin)

15.00 - EUROPACINEMA AWARD FOR THE BEST DOCUMENTARY "RESIST" Karin Kaper & Dirk Souzies (germany)

16.30 - Mike Froidlalias Don Chaos 1992 – 2000 (germany) "Don Chaos Adventures in Spain, China and Bavaria"

17.15 - REGIONAL GENDER + AJURÜNNAK --SUGUPOOL KINOLINAL-- / BRAINSTORM -- SCREENED
GENDER --

18.30 - RAIVO KELOMEES PRESENTS: TARTU KÕRGEM KUNSTIKOOL / TARTU ART COLLEGE 2005

19.25 - HUMAN RIGHTS REGIONAL
AKKRAAK -film Susanne Dzeik & Kirsten Wagenschein (Brasil/Germany) "ABOUT WALLS IN FAVELAS"

20.30 - NONGRATA PRESENTS: "ART OF THE INVISIBLES"
OSALEJAD:
EUROPACINEMA AWARD FOR THE BEST DOCUMENTARY "RESIST" Karin Kaper & Dirk Souzies (Saksamaa) ¶ QUEER FEMINISTS: RENATE LORENZ & KARIN MICHALSKI (SAKSAMAA) ¶AKKRAAK - film Susanne Dzeik & Kirsten Wagenschein (Brasiilia/Saksamaa human rights) ¶ JELENA VESIC (SERBIA) PRESENTS: AV-WORLD OF BALKAN ¶ Kim KANG PRESENTS: "Orient Settings"- video art from South Korea ¶ EESTI KUNSTIAKADEEMIA E-MEEDIA KESKUS¶ TARTU KÕRGEM KUNSTIKOOL ¶ MÜVESZWTI MEDIA MÜHELY (Ungari) ¶ Piret Saarepuu presents: EESTI NUKUFILM- "Piksillatsioon" ¶ Raivo Kelomees ¶ Don Chaos (berlin punk aikido) ¶ NONGRATA ¶ REMO RANDVER & VILLE-KAREL ¶ ANONYMOUS BOH ¶ yellow wolfman ¶ siram ¶ DZIUGAS KATINAS & Antanas Jasenka (LEEDU) ¶ BJÖRN FREDERKING (SAKSAMAA) ¶ ERNEST TRUELY (usa) ¶ KinoKabaret ANNA SCHENK, CONSTANZE BERSCHUCK, ARMIN MOBASSERI (berlin) ¶
¶ Festivali käigus saadaval Tiia Johannsoni DVD soodushinnaga 100 krooni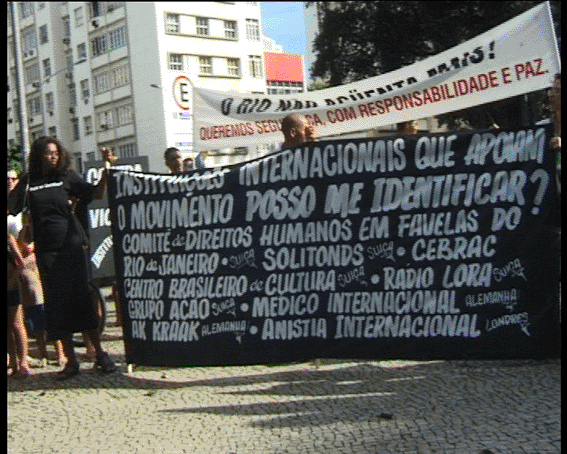 EESTI KUNSTIAKADEEMIA E-MEEDIA KESKUS
"Regional settings" meets the "Region free". PART 1

"Kitarr. Naine. Mees. Lumi. Kirves. Varjud. Surm."
Riina Õun 2005
KESTVUS: 03,15
Heli: E- RIC
Osades: L, Hr. O, Lepp, Blonda, Aimee, Skisosiil, Mustmarker
Mõistatuslik lugu metsas. Lumises kuusikus pilli mängiva noormehe kitarrihelide saatel hakkab toimuma nii mõndagi.


"A dialogue in 14 beers"
Isa Vergani & Alina Korsmik 2005
KESTVUS: 09,54
Palju joob eestlane? Kui ei tea, siis uurime järgi. Tänavaaktivismi käigus selgitatakse tõde.


"Minu lugu"
Gerli Liivamägi 2005
KESTVUS: 1, 54
Isklik lugu kahe noore suhetest. Kriitiline situatsioon.


"Kahe jalaga maas"
Katrin Tees 2005
KESTVUS: 3, 00
Heli: Lionel Belasco "Miranda" Zero 7 "likufanele"
Kriitiline ja humoorikas visioon turismiteemadel


"Kratt"
Ivi Talzi 2005
KESTVUS: 4, 58
Animatsioon. Eriskummalise tihnikus tegutseb vääramatu jõud, mis suudab paigast nihutada olemasoleva.

"Untitled"
Petra Mladkova (Tšehhi) 2005
KESTVUS: 2, 00
Animatsioonina teostatud lugu oma õnne otsivast mehest.


"Kuidas küll nii läks?"
Reimo Võsa Tangsoo 2005
KESTVUS: 02, 58
Heli: Minu isa oli ausus ise - Mesilase mumm
Jõuluvana ja kingisaajad. Nende omavaheline suhestumine sotsiaalhoolekande asutuses. Eriline sünergia.


"Toiduaeg"
Evelyn Toomistu 2005
KESTVUS: 2,50
Kas inimese rämpsust toituvad linnud on kui tänavatel jõlkuvad prükkarid, loodussanitarid või inimtegevuse ohvrid? Selle üle tasuks mõelda.



TARTU KÕRGEM KUNSTIKOOL 2005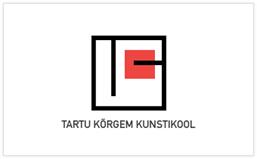 ca 75 min

Marju Kuusk
"Aeg", 0:56, 2004
Merike Tamm
"Insomnia", 1:25, 2004
"Feuer Frei", 3:00, 2004
Mihkel Mõttus
"… for a dream", 2:20, 2004
"Nimeta", 2:20, 2004"Nimeta", 1.20, 2004
Sveta Bogomolova
"Happening", 2:24, 2004"Aeg", 1:00, 2004
"Nimeta", 1:29, 2004
Teele Strauss
"Põleb, ei põle", 1:30, 2004
"Hetked kunstniku elus", 1:30, 2004
Kalev Vapper
"TKK rektorile…", 1:50, 2005
Andrus Lauringson Aive Kalmus
"Uuriv ajakirjandus", 1:04, 2005
"Tribuut Lilian Kosenkraniusele", 1:16, 2005
Martti Poom
"Liiklus, liiklus" 1:32, 2005
Jaan Tommingas
"Daydreaming" 0:40, 2005
Nele Tammisto
"Kolgast Tartu", 1:21, 2005
"La-la-laa", 1:17, 2005
Sille Neevits
"Sa oled ilus", 3:51, 2005
"Üks, kaks, kolm", 0:53, 2005
Lauri Rahusoo
"Võta, aga pane tagasi", 2:34, 2005
"Hajevil", 1:20, 2005
Anna Hints, Lea Tui, Tiit Joala
"Muipoo" 5:00, 2004
Enriko Mäsak Maria Puhm
"Elu kui rollercoaster", 0:50, 2005
"Sein" 0:55, 2004Popstar" 1:20, 2005
"Kõik on mixdown" 2:23, 2004
Jass Kaselaan
"Kärbes" 0:40, 2004
KIWA
"Planet" 0:46, 2004
"I Was Prevented From Being a Popstar" 1:20, 2005
"Kõik on mixdown" 2:23, 2004
Kalev VapperKotka ja Kätlin Arro
"Hele Roosa" 0:58, 2004
Maris Pill
"Reet" 0:43, 2004
Rannar Pärn
"Our Daily Bread" 0:44, 2004
"Öösel Tartus" 0:55, 2004
Tuuli ja Kätlin Arro
"Hele Roosa" 0:58, 2004
Maris Pill
"Reet" 0:43, 2004
Rannar Pärn
"Raskemeelsus" 1:16, 2004
Käty Kask
"Nullkaadrid" 1:25, 2004
"Tabidus solis" 1:12, 2004
Vitor Hugo Aguiar
"Teel" 1:56, 2004
"Nimeta" 3:25, 2004
"Nimeta" 1:34, 2004
Taivo Timmusk
"2" 0:44, 2004"Nimeta" 1:58, 2004
"Autoportree" 1:38, 2004
Kadri Kuusk
"…" 3:30, 2004
Maarja Roosi
"…" 1:47, 2004
Siret Tarvis
"Hetk" 2:00, 2004
Joosep Volk
"Autoportree" 1:38, 2004
Triin Tuvikene
"Portree" 0:26, 2004






Tiia Johannson 1965-2002Selected videos 1990-1997Valitud videod 1990-1997


1. 4 Elements, 1990/93, 7:26
2. Namebook, 1996,
3. Female Fish, 1996,
4. Chaos, 1997, 0:45
5. I Clicked My Heart, 1997,
6. Ballet, 1997, 1:42
7. Lost Reality, 1997,
8. Black Sun, 1990/97,


Tiia Johannsoni (1965-2002) kunstnikuelu on näide 20. sajandi kunstiajaloo lühikursusest: abstraktsest maalikunstist ja kollaazhidest videokunstini ja sealt edasi netikunstini.
Digitaalsed tööd on arvutiprogrammide kasutamisel tehtud multimediaalsed kompositsioonid, mis on kohandatud esitamiseks internetikeskkonnas. Neist enamik paikneb Eesti Kunstiakadeemia serveris aadressil
artun.ee/~tiia/netproject
Digitaaltööde puhul on tegu impressionistlikke etüüdidega isikliku elu ja argipäeva sündmuste põhjal, nagu "Very intimate screenshot", kus vaatajal on võimalus koostada screenshot-puzzle kunstnikust, kes jälgib oma poega reaalvideo ülekandel Jaapanist. Projekt "get real" kujutab noorema poja sünnieelset videoülesvõtet. Projekti "Live Your CV, life comes after that..." sisu on kunstniku CV automaat-tõlked kuude keelde.
Tiia Johannsoni suhtumist netikeskkonda ja oma projektidesse ilmestab iroonia ja distantseerumine tehnofetsishistilikust meediakunstist. Tema narrivad pöördumised vaataja poole, nagu "mine koju, mitte oma koduleheküljele" ("go home, not to your homepage"), "internet on meie maine paradiis" ("...the Internet is our paradise on earth...") iseloomustavad kunstniku arvamust asjadest, mis on liiga ületähtsustatud. 1990ndate lõpu internetivaimustus oli ju taasleitud "kommunikatsiooniparadiis"! Netikunsti irooniat võib leida terminites "pointless" ja "interactiveless", mida ta kombineeris pealkirjaks "POINTLESS interactiveless METAPAINTING ANIMATION". 1990ndatel levinud vaimustus sisukast interaktiivsusest ja sekkumisvõimalusest uue meedia kunstis sundis teda reageerima nende mõistete pahupidipööramisega.
Raivo Kelomees
"Destinations/Suunad". DVD, 2005.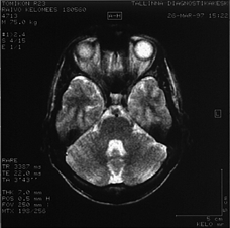 Interactive videodiary "Destinations" is made according to the form
al
principle – the moving direction of the video on the screen. The movement of the passanger is opposed to the movement of the video. The main idea is to show the relativity of movements in time and space, as well as to show the choices we seemingly make in order to control one`s life. Gaining an ultimate control in order to reach the destination we want is impossible.
Interaktiivne videopäevik "Destinations" on koostatud lähtuvalt formaalsest põhimõttest - videopildi liikumise suunast ekraanil. See on vastupidine reisija liikumise suunaga. Ideeks on liikumise relatiivsus ajas ja ruumis ning näilised valikud, mida teeme, et kontrollida oma elu. Lõpliku kontrolli saavutamine jõudmaks soovitavasse sihtpunkti osutub võimatuks.
"Ice Baby", 2003, 2:45
"The Birth of an Image", 2003, 10:44











KinoKabaret: ANNA SCHENK, CONSTANZE BERSCHUCK, ARMIN MOBASSERI (Saksamaa)
WORKSHOP, tulemused esitatakse festivalil Pärnu programmis
AEG: K 12. – R 14. oktoober iga päev algusega kl 10.00
KOHT: Academia Non Grata, Suur-Posti 16, Pärnu
Töö käib inglise keeles.
Get up, get an idea, write your script, shoot, edit, do the sound and finally present it in front of the audience; all of that in only 48 hours – that is KinoKabaret!
Following our motto Do well with nothing, do better with little and do it right NOW!, we produce short films under a common theme. Together we create works that may be funny, sad, salty or sweet, works that may cause trouble and heat.
For this purpose we meet the first night at the KinoLab, we present the theme and everybody gets to meet each other. The morning after we meet again and brief our ideas or offer our cooperation to each other. Then the teams start off, usually shoot the day and come back at night. The second day is mostly for editing and sound making.
The night of the second day we have the audience gather in the screening room, while some of you will still be editing and finally present our movies in front of all the guests and Kabaret participants!
After we want to party and think about a Kino group in Estonia…
Because: Kino is a worldwide movement, that originated in Quebec, Canada, a few years ago, and in the meanwhile exists in many places in North America, Africa, Europe and it doesn't stop! The closer neighbors are: Manchester, Paris, Lyon, Bruxelles, Vienna, Hamburg and Berlin. All these places organize KinoKabarets and the Kinoites visit each other for that purpose. At the same time the Kino groups are independent and make short or even longer films in their own ways. But we network, we visit each other and we believe that you don't need much to make good films except for the pleasure of doing it!
We don't want to leave that field to the big production companies or media corporations!
So from the 12th to the 14th of October the first KinoKabaret in Estonia will take place, several people from KinoBerlino will come and help with the organization and hopefully the birth of the first Kino group in Estonia.
Don't worry if you don't have experience or the technical equipment, we join all our resources to create bigger things! Become a Kinoit!





BERLIN FIGHTERS OF HUMAN RIGHTS PRESENTS:

AKKRAAK -film Susanne Dzeik & Kirsten Wagenschein (Brasiilia/Saksamaa)


Kontakt: kirsten@assi.tv,www.akkraak.squat.net
more information about the filmmakers:
Susanne Dzeik and Kirsten Wagenschein are independent filmmakers, working
together at the berlin videocollective AK Kraak since 1993.
(www.akkraak.squat.net)
Starting with a videomagazin about the squatting movement, we did produce
mainly about the antiglobalisation movement and since 2002 about social
movements in latin america.
Marcio Geronimo works with the videogroup aTreVer! in Rio de Janeiro about
social and cultural issues in the favelas.
Marcio Geronimo lives in the Favela Manguinhos in Rio de Janeiro for 20
years.Since 2004, he works in the Videocollective aTreVer as a coordinator,
which he founded. ATreVer produces videos about the live in the favelas with
its diverse faces.
Marcio Geronimo is part of the network in the favelas against police violence.


"ABOUT WALLS IN FAVELAS" (62 min)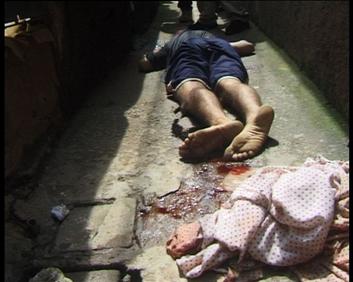 'I watched the bodies being dragged down from our neighbourhood. They were
wrapped in blankets soaked in blood. When I saw all this, I fainted. This all
happened after the murder of my son.'
Marcia lives in a favela in Rio de Janeiro. Her son was murdered by the
police. He was one of the 1194 people who where killed in 2003 by the police
of Rio de Janeiro. The victims are mainly young people- black and mulattos,
from the poor areas. The police of Brasil are notorious for the extreme
violence in trying to keep order for the state.
The documentary, a German-Brasilian co-production of the video collectives AK
KRAAK (Berlin) and aTraVer (Rio de Janeiro) gives a voice to the inhabitants
of the favelas. They talk about their lives; being without possibilities;
being marginalised; and above all - the police brutality.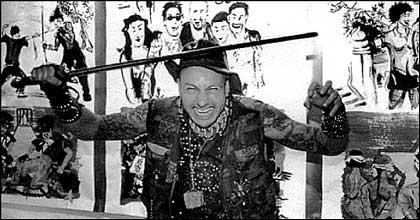 Mike Froidlalias Don Chaos 1992 – 2000 (Saksamaa)
Kontakt: http://www.don-chaos.de/
Stillid: kodukal
Näopilt: kodukal
Formaat: VHS
Since Froidl was in Spain as a modern Don Quichote, he calls himself Don Chaos. He is a wellknown painter for political art, a fighting artists (Filipino martial art (Arnis), Aikido, Kickboxing), book-author (Progo-Dothe way of Pogo-dancing) and director of historic movies like "The Niebelungen" of "Frederik II The Great".
"Don Chaos Adventures in Spain, China and Bavaria" (45 min)
Videodocumentation about one artist in iron armadur and medieval weapons, who fight windmills (in the original Mancha-desert of Cervantes) and the rest of modern world. Also show us the world of chinese culture (in Hong Kong, Kanton and Macao) in the eyes of a european punkrocker...
PERFORMANCE:
"Don Chaos japanese Calligraphy Demonstration" (20 min)
Don Chaos was 8 years long a student of the spiritual art of japanese kalligraphie, his master was the zen-monk K. Kuwahara. Don Chaos will demonstrate his version of "bad ja Funny kanju-signs" in a traditional way.








EUROPACINEMA AWARD FOR THE BEST DOCUMENTARY
"RESIST"
Karin Kaper& Dirk Souzies (Saksamaa)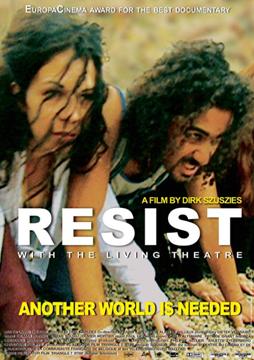 Civil disobedience!
No more war!
Resist!
That's what The Living Theatre has always done - and is still doing with vigor today.
RESIST chronicles the history and mission behind The Living Theatre, one of the most significant companies in the history of American theatre and the avant garde. Established in 1947 by Julian Beck and Judith Malina as an alternative to commercial theater, the Living Theatre's politically-motivated plays expressed anarchist, pacifist ideals and mobilized the theater as a medium for social change.
For over 50 years, the controversial troupe impacted audiences and theater practice around the world with its visceral, free-form productions, including The Brig, Paradise Now, The Money Tower, Mysteries and Smaller Pieces, The Rules of Civility, and Not in My Name.
Today their collective creations are performed in unconventional venues around the world-from public parks and factories to prisons and detainment camps, opposing economic tyranny and the militarism paralyzing so many countries. But is it still a valid, effective form of social commentary and protest? What weight do their ideas have if the world is so eager to live in violence? Are their utopian ideals a realistic response to the complex problems of contemporary societies? What is the meaning of this fight today?
Interweaving archival footage of past shows with contemporary interviews with Malina, Beck (up until his death in 1985), co-director Hanon Reznikov, and other company members of past and present, RESIST follows the troupe of radical illusionaries on three different journeys as they collaborate with young activists on productions beyond the traditional stage: Ground Zero in New York; the G8 Summit in Genoa; and the Al Khiam detention camp in South Lebanon.
RESIST is a poetic and political homage to the Living Theatre which, after nearly six decades is often taken for dead yet always revived; a rejected but tireless nomad, the Living has survived its own success and its opponents' persecution.
----------------------------------------------------------------------------------------------------
"A stirring testimony to the renegade spirit of Julian Beck, and to the few places where social action and American legit life still cross paths. A combination of archival and first-person view of where the happily anarchic company is at today, RESIST should attract anyone interested in experimental theater. German-based helmer Dirk Szuszies, a onetime member of the famously controversial outfit, is well-positioned to tell the story of a group that 'you don't audition for; you just show up.' Resistance might be futile, but RESIST, made with affection, is curiously upbeat." - Variety
"Like most people, I assumed that Julian Beck's Living Theatre was as dead as bell-bottoms with kick pleats, but this inspirational doc from Dirk Szuszies proves me wrong." - The Georgia Straight
"Stimulating and uplifting! The story of this remarkable ensemble company and its charismatic leader Judith Malina ranges from the landmark performances of the 1950s and 60s to some of its most recent work in the U.S., Italy, France, and the Middle East. The scenes in southern Lebanon-where troupe members attempt to convert a Hezbollah theatre group to non-violence and pacifism-are worth the price of admission alone!" - The Age (Australia)
"Beyond transmitting the important message of peaceful resistance, RESIST is a valuable tool for discovering the work of The Living Theatre, which combines theatrical language with real experience." - EuropaCinema Jury, Award for Best Documentary
** 2003 Europa Cinema Award, Best Documentary
RESIST
A Film by Dirk Szuszies
Directed by Dirk Szuszies & Karin Kaper
Starring Julian Beck, Judith Malina, Hanon Reznikov
Narrated by Dirk Szuszies
Produced by Eric Van Beuren (Belgium/Germany)
Screenplay by Dirk Szuszies
Photography by Dieter Vervuurt
Edited by Alain De Halleux
Music by Carlo Altomare, Patrick Grant, & Andrea Liberovici
Running Time: 90 min.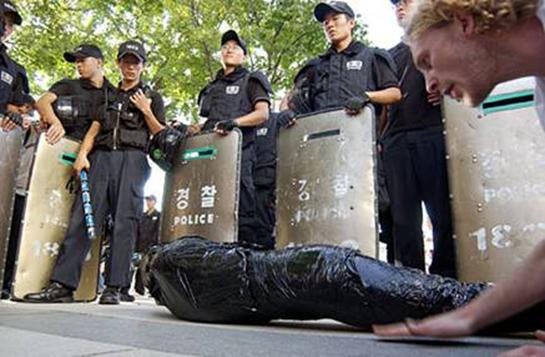 NONGRATA PRESENTS:
"ART OF THE INVISIBLES"
Around the name NON GRATA there have been different hushes and sushes for
a long time. Already from the point of view of death of conventionalization
of art it has embodied the horrible and unwanted disembodiment of human
person, from which the meaninglessness of nowadays art, is pouring out. For
those, whose world of arts starts from the point, where the art world ends, NON
GRATA has been a liberator, the orphic gap in the seemingly unalterable course,
which however betrays us, it is a cure from insest. The main point of the group
is ethical - it is the image of primitivism, unpersonality and experimental
creativity. The performances of the group take palce according to the
logic of avoiding codes. The presenatations are physical texts, whose ways of
orthography and reading are kept within limits of real actions by the group
members. Aesthetical and provocative challenges are represented in places,
where tha Art World doesn´t work.


1.1."National Security Law" 2004
1.2."Doctors of the Universe" 2004
1.3."Doctors 173"
1.4."DER FREIE WILLE" 2005
REMO RANDVER & VILLE-KAREL VIIRELAID (EESTI)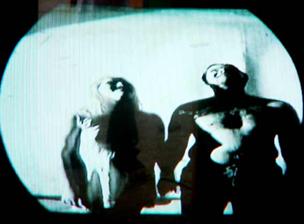 "BLACK SUITCASE"
Arkadi Plastovi nimelise neokommunistliku rühmituse "Fashist lendas üle"
film "Must Kohver".
Pikkus:30 min.
Formaat:DVD
Näitlejad: Rodrig Kokla, Liivi Tantaal














"ASYLUM"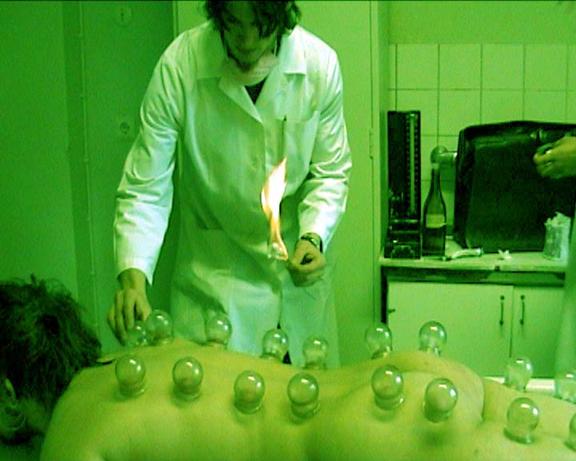 50 min. low budget film suletud süsteemistekkivatest rollimängudest suletud vaimuhaigla keskkonnas – totaalses "tühjas ruumis". Patsientide ja tohtrite määratlus ei ole defineeritud, rollid vahetuvad nihestatud ajalises konfrotatsioonis. Aktivistlik energeetiline pluralism suurel suletud territooriumil - hierarhiate ümberlükkamine ja sulandumine, polaarse ühisosa määratlemine maniakaaldepressiivsest jovaalsuseni.
Osades: Meeland Sepp, Remo Randver, Sandra Jõgeva, Hip Hop, Kiwa, Mari Kartau, Tanel Saar, Ville-Karel Viirelaid, Rauno Teider, Tuuliki Avango, Bille Neeve, Margus Sorge Tiitsmaa, Taje Tross, Taave Tuutmaa jt.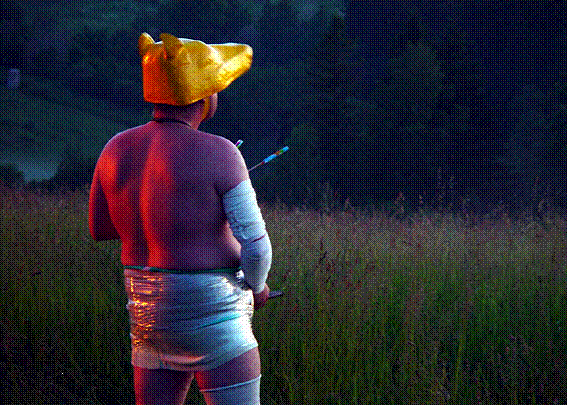 The story about yellow wolfman – NEW EDITION, SOHRTER BUT BETTER!
Action: Yellow Wlofman alias Andrus Joonas
Camera: Non Grata
Editing: Remo & Ville-Karel
19 min






CLEANNESS AND DISCRETION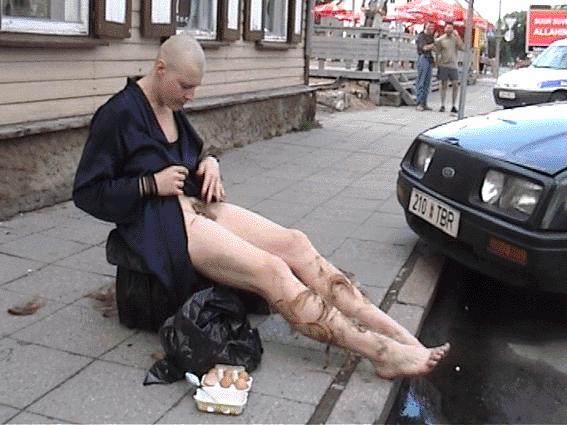 Performance documentation.
Performed at Performance Week, KU Gallery, Tallinn, Estonia, July 2nd 2004 and performance festival
Time.Space.Movement: unplugged, Paide, Estonia, July 10th 2004.
Author: Siram
Camera: Non Grata, Nigol Sobolev, Margus Kiis, Rauno Teider
Music: Manic Street Preachers "Stay Beautiful"
Duration: 9:00


LOST IN STRUCTURES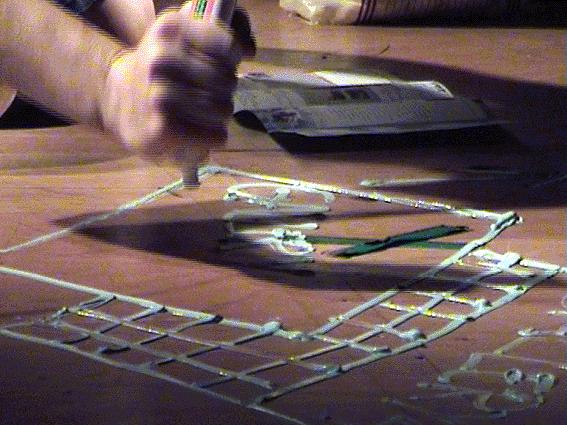 Performance documentation.
Performed at Performance Week, KU Gallery, Tallinn, Estonia, June 26th 2004 and Gwangju Biennale, South-Korea,
September 13th 2004.
Author: Mari Kartau alias Siram
Camera: Non Grata
Music: Ki'WA Ajud Tünnis, Repliik
Duration: 6:40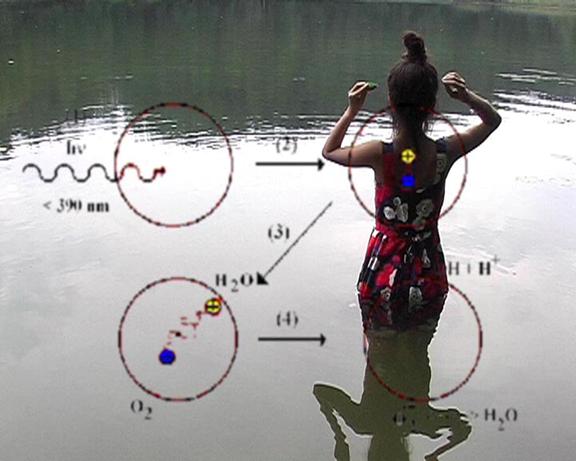 "Water" (6 min)
Film by Junko Iga and Dziugas Katinas.
Script - Junko Iga, Dziugas Katinas,
Camera and editing Dziugas Katinas.
Cast Junko Iga.
Sound: Antanas Jasenka.
Story description - synopsis:
Water is usually no taste, no smell no color liquid. Seventy present of human is water. But all this is only useless technical specifications.
Why I've got crying
I waw near the water and frightened fishes
I wanted them back, but they didn't come
Then I swam for excuse and drowned
Boarding Pass
Electronic music consists from two parts: Out In and In Out.
Music: Antanas Jasenka Animation: Dziugas Katinas
Finished in 2005.
The animation is in progress, so by now duration is arround 40 min.
The project will be 2 hours electronic music DVD with computer animation, which will be printed after New Year in Lithuania.
Synopsis:
Flight, journey, way, movement structure has no end as well as the final goal or aim. No target, no South or North. We are everywhere and nowhere. The gross matter, human - maschine, sound, visual have rudiments of thinking which lead us nowhere, have no dramaturgy, simmilar to the state which have no time dimension and eternal. There are no direction, which could be more important, than antidirection, so the left is space - body, spirit - condition. Body is space, vector of live being and dead. Boarding Pass is the ticket to nowhere for nobody. Stop time, point, explosion.

































JELENA VESIC (SERBIA) PRESENTS: AV-WORLD OF BALKAN

Stories from the neighborhood...
Kontakt: strahler69@gmx.de
Formaat: DVD
"Der Unbekannte" 2004 (2 min)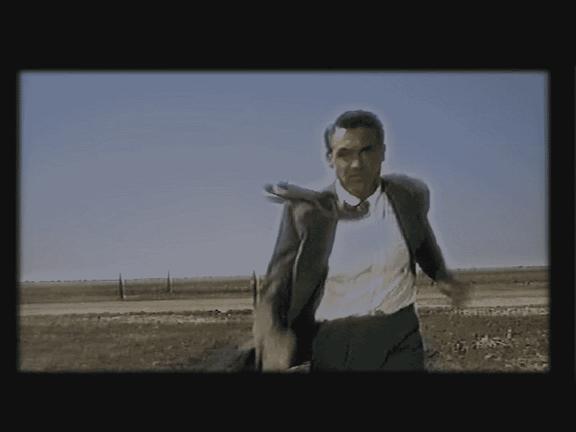 "Similar" 2003 (2 min)
Only one artist hides behind the pseudonyms E-crow and Strahler: Björn Frederking.
He started to make music in 1988, during the first time in band-projects, but since the middle of the 90's he preferred to do his experiments with sounds alone. His way led him from Ambient to tracks influenced by Drum 'n Bass and Electro and more and more to an own independent style.
You can follow this process listening to the "E-Crow electronic listening compilation 95-98". The wide range of different compositions shows the development. Every new step required a changed or new definition and also a renaming of his own project.
The tracks which came into being during three years in a studio in the bavarian "Outback" are characterized by tricky beats, warm sound shapes and Björns manic love for the equipment which causes often surprising results. Their harmony and atmosphere are disturbed by deliberat breaks and especially in the spoken word tracks by a cryptic humor.
The track "Elektronisch" is a special mark on this way. It is the end of the album and can be seen as a new beginning, because it is the only track without foreign vocal samples. Frederking started to uses his voice and initiated under the name Strahler a series of publications on our label.





MÜVESZWTI MEDIA MÜHELY (Ungari)
CarToon OR Animation: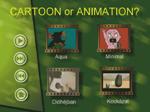 Endless Images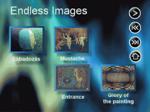 Life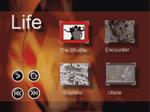 Experimental systems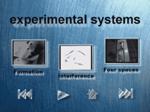 The Spirit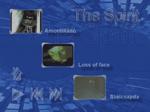 Best of 2004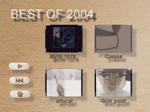 QUEER FEMINISTS: RENATE LORENZ & KARIN MICHALSKI (SAKSAMAA)
clipclub - feminist & queer films and barkarin michalskimariannenplatz 2310997 berlingermany
fon/fax 030-624 34 27 karinmichalski@yahoo.de
_________________________________________
Pashke and Sofia
(Germany 2003, 28')
Director & Camera: Karin Mich

al

ski

Sound: Ursula Habersaat

Editor: Elfe Brandenburger

Production: Karin Mich

al

ski / dffb
Distributed by Women Make Movies,
New York
and Cinenova,
London
Synopsis
Pashke (62) lives as a "sworn virgin" since s/he was thirty what means that s/he lives the soci
al
role of men. This is part of an Albanian tradition where women take over the rights and duties of men when the family situation needs it or when they don't want to marry. When Pashke decided to dress and live as a man, s/he on the one hand had to do it to keep her/his house and land. But on the other hand s/he
al
so had a desire to express and live her/his own masculinity.
Pashkes biography gives the impuls to ask
al
so other women about their ideas about their lives and about gender roles. For example,
Sofia
lives the tradition
al
women's role. She was married and got six children. But she
al
so has partly subversiv ideas and wishes.
Sofia
criticizes the restrictions for women in society that rule her life.
Pashke and Sofia live in
Northern Albania
in a mountain village c
al
led Theth and in Shkodra.
COPY ME - I WANT TO TRAVEL
A FLM BY PAULINE BOUDRY, BRIGITTA KUSTER, RENATE LORENZ
GER 2004 BETA SP 4:3 COLOUR MONO 68 MIN
DIRECTORS. CAMERA.SOUND. EDITING
pauline boudry
brigitta kuster
renate lorenz
ADDITIONAL EDITING
merle kröger
MUSIC
linda wölfel
pauline boudry
TRANSLATION
penka kotcheva
gergana furkova
katrin pesch
SOUND MIX
rashad becker
EDITOR
kathrin brinkmann
PRODUCTION
renate lorenz
medien produktion
& zdf / arte
TELEVISION CHANNEL
zdf / arte
The copy of which the film is talking about was produced in Bulgaria: inthe eighties the Western product Apple-II was dismantled there and put together again as the Eastern product Pravetz II.The reverse engineering of a successful personal computer, the copy comes into
operation in the Cold War. Unofficially it is a copy; officially it is a Bulgarian production. As every copy it fails its original.
Something particular was created in Bulgaria and produced collective desires: it was supposed to be a successful product, a mass product, which wouldhelp the small country Bulgaria catch up to the USA. The computer was supposed to outsmart the West and with its helpone wanted to make fun of those, "who don't even know where Bulgaria is."
In the production of the copy women took on a special role. Many of them working in high positions and carrying "three watermelons under one arm": officiallywomen were enjoying equal rights, but unofficially one would say said in thesocialist Bulgaria, "Woman carry three watermelons under one arm. They are supposed to be a good activist, a good housewife and a good worker."
Later, during the transition from socialism to capitalism, the computer was also used for the production of viruses. Once made, the viruses copied themselves and traveled: "The USA can deny entry to me, but not to my viruses", said Dark Avenger, a virus writer whoseproducts caused major damage in companies in the USA.
Since 1997 we have been developing common work at the intersections of art, theory and film. Central to our work are current sociopolitical issues such as work, sexuality and migration. We are especially focussing our analysis on the meaning and productivity of sexuality in the field of work. Our general idea is to develop an exchange of the production of knowledge and of forms of representation between different social fields.
But collective desires were also deflected, got stuck. The production copied the way of production of Western capitalism; the virus writers were considered losers without an "understandingof property". Many of the computer kidsbecame women programmers and hardwarespecialists, who earn little at the few existing Bulgarian companies and earn
well or better, if they work for an American or German company. Many of the women we were searching foralready left the country and live with working permits in the USA, in Canada or in South Africa.
Together, three women filmmakers and three women computer specialists, we take a research trip through the history of bulgarian Computer production.
The film tells his story through conversations with Plamen Vachkov, the former managing director of the Pravetz factory, with Doriana Moneva, whoinstalled the printed circuit board at Pravetz and Maria Petrova, who was a worker at the Pravetz plant and who organised protests for owed wages, or with Vesselin Bontchev, the virus hunter, the biggest opponent of Dark Avenger. Copy me - i want to travel also shows rare footage on the introduction of personal computers in Bulgaria.
The fact that the filmmaker's view of the images of the cold war is critical and yet caught up in them, and that they carry with them their own gender and sexual positions brings about staged images that infuse the film like a queer´version of classic spy films: Pauline Boudrys family came from Bulgaria to Switzerland and the first movie Paulinesaw with them was called "le parapluie bulgare". It was about the tricked out umbrella of a bulgarian agent.
The music for the film was produced by rhythm king and her friends.
münchen – sofia
videoinstallation. 2 x 8', 2004
atelier europa, kunstverein munich
normal love
music/videoclip. 3', 2004
video for the 'rhythm king and her
friends'
2003
die deutschlandtür geht auf und
gleich wieder zu
performance, volksbühne berlin,
2002
didibao
music/videoclip, 3', plovdiv/
bulgaria, 2001
blaumann / blue collar
video, 15', germany 2000
reproduktionskonten fälschen /
to falsify the accounts of reproduction
- heterosexuality, work &
home
reader, 1999
baustop. randstadt,-
exhibition, ngbk berlin, 1998
'copy me – i want to travel' is our
first feature documentary.
COMMON WORK (SELECTION)







EESTI NUKUFILM- "Piksillatsioon"


Nukufilm OÜ deals with all kinds of puppet animation (stop-motion) techniques: puppet and cut-out animation, modelling, pixillation and computer animation. Some animation techniques worked out by our film team do not even have a name yet.
Currently there are 25 people working for studio Nukufilm , most of whom are qualified directors, artists, puppet makers, decoration artists, lighting technician, animators, operators and their assistants, montage technicians and sound editors. We hire other professionals depending on the extent and complicity of projects.
ContactTel +372 6414 307
Fax +372 6414 307
Niine 11, 10414, TallinnEstonia
nukufilm@nukufilm.ee


"PÕRANDAALUNE"Mati Kütt, 1997, 12 min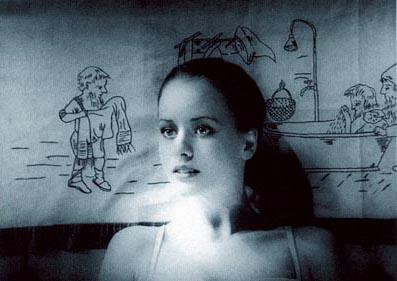 Synopsis:
Multiplying the existing point of view the actual oneness seems changes to unevenness.
Sünopsis:
Olev ühtsus näib ebaühtsena vaatepunkti multiplitseerides.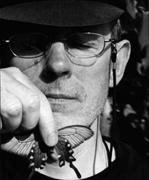 "PAPA CARLO TEATER" Rao Heidmets, 1988, 9 min
Sünopsis:
Totalitaarne ühiskond hävitab end ise, ületades varem vôi hiljem rahva takuvuse piirid ja siis tallatakse üle "Papa Carlode" tee vabaduse usteni.
Synopsis:
A totalitarian society destroys itself, sooner or later the people cannot take it anymore and then, over papa Carlos a path to the doors of freedom is laid.


"ELUTUBA" Rao Heidmets, 1994, 10 min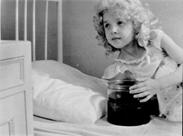 Sünopsis:
Sürrealistlik nägemus lapsemaailmast, kus vanematel tütre jaoks aega ei jätku, vanaisa ettekirjutused on aga lausa kriidijoontega ette piiritletud. See on mehaaniliste kordumiste maailm, monotoonne ja arengupotensiaalita. Tüdruk joonistab selle asemele oma kriipsujukude maailma. Selles viimases leiabki ta lõpuks tõelise ja loomuliku lapsepõlve.
Synopsis:
Film about conflict between young and old generations. In this animated film with live actors the protagonist is a girl, who is brought up by her grandfather. he lives in a strictly regulated world where animate as well as inanimate creatures have fixed places, which are marked by chalk on the living-room floor. Anything surpassing those borders is mercilessly scarped out of the film strip. The young girl, in whom the primal forces of nature are awakening, learns from her grandfather's fading sexuality. She starts to scrape the filmstrip as well, to change the world according to her own

"HUMACHINOID" Kalju Kivi, 1995, 7 min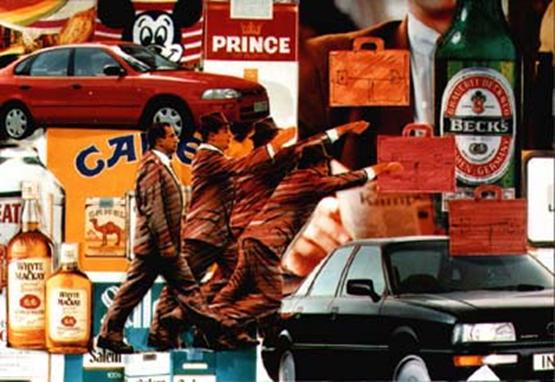 "Ernest Truely's Bare Bottom Spanking for Salvation" (1992) 15 minutes. Rock-u-mentary about my faith healing performance activities in Washington and Oregon in the early nineties.
" The Grudge " (1999) 8 minutes The Grudge is a narrative about a small group of friends growing up in a small town. Drugs, greed and a narrow world view leads to murder.
"Real Smoker" (2000) 7 minutes Award winner Northwest Film and Video Festival, Portland Oregon (press available)Documentary style film shot on the day whent local laws went into effect banning smoking from all public buildings except taverns. The camera records real peoples reactions as the protaganist continues to smoke in public buildings.. Original soundtrack by Benjamin Arthur Ellis.























Kim KANG presents: Orient Settings
Korean Film List
? <Revolution& OASIS Project>
?Director : KIM Kang
?Duration : 7m 17s
?E-mail : parasolhs@yahoo,fr
? <Play at dice>, 2002
?Director : KIM Youn Hoan
?Duration : 15m
?E-mail : paintkyh@hanmail.net
? <Where am I ? >, 2005
?Director : YONG Hae Sook
?Duration : 4m 30s
?E-mail : kkok2046@hanmail.net
? <OASIS In seoul :Covered Wagon of Art-OASIS, >, 2005
?Director : LEE Hyun Jeong
?Duration : 11m
?E-mail : fridaa@naver.com
?Synopsis : The Covered Wagon of Art- OASIS is the alternative artistic space in the street where the art and the everyday life merge with. It's the artists platform on which art, music, poetry, literature, independent film, documentary film, performance, dance, etc, all kinds of artists come together for exchange esprit and experiment artsitic.
? <Rip it up!>, 2001
?Director : LEE Mario
?Duration : 45mm
?E-mail : leemario.korea@gmail.com
?Synopsis :
The system of resident cards in Korea results from the unique situation of the Korean peninsula, the division of South and North Korea. This system violates human rights severely by compelling civilians to have individual numbers and forcing the stamping of ten fingerprints, which is the normal procedure for criminals in western society. It is another face of the 'Big Brother' in '1984', George Orwell's famous science fiction novel which was subsequently made into the well known movie ofthe same name. However, the argument of the South Korean Government is that such a system is necessary because of the division of Korea into north and south. This has persuaded people to accept this system without question. In this work, I would like to raise the problems of this system of resident cards, which internalizes both Fascism and a surveillance system.
? <Life-Entertainment-Film>, 2004
?Director : Ann Hyun Suk
?Duration : 3m
?E-mail : annhyunsuk@yahoo.co.kr
?Synopsis : <Life-Entertainment-Film>
There is not any problem of clear rule and result of game between man and woman. We know this by that the relationship between two sexes is totally competitive, but sometimes amiable. The concern of the author is to investigate diverse sides of human relationship by the form of game. We can read her message that the relationship among people doesn't decide by just one side, we should live all together in this situation even though we are constantly contradictory, and the character of the relationship among people should continue to explore.
Author Ann's narration is a expression to put down fire by fire by the established space. Afterwards, she acquires a circulating space. What she is trying to say is that, in other words, human reaches dissolution and destruction sneering instituional wall of a false and conflict, but the power of dissolution and destruction rise from simple and repeating action which trying to escape from meaninglessness, and finally human is in this circulating space of remodeleing.
? <Watering>, 2005
?Director : HONG Hyun Sook
?Duration : 2m44s
?E-mail : honghyunsook@nate.com
?Synopsis : Outside the circuit of the watching act toward the body of self and others, there is a body's metabolism or the regimen of flesh, skin, and hair. To the eye of an enlarged eco-feminist, the water sprinkled upon hairs is not just a metaphoric one through similarity in form. It is the actual water that makes hairs grow. The grass is identical with hairs, but just having a different name. It is not a world of poor ambiguity, but a world of abundant certainty. by Park, Chan-kyung (Critic, Director of Alternative Space FULL)
? <3 Open up>, 2001
?Director : RHO Jae Oon
?Duration : 3m50s
?E-mail : cloudy12@vimalaki.net / www.vimalaki.net
? <Bush it >, 2004
?Director : RHIE Joong Jae

? <Abanggung>IPGIM: Feminist Artist group, 2001
(Ru-Jun Hwa, Yun-Hee Su, Jae-Mi Ran,Kwak-Eun Sook, Kim-Myung Jin,
Ha-In Sun, Woo-Sin Hee, Jung-Jung Youb)
?Director : Kim-Myung Jin
?Duration : 12 min
?E-mail : myungkim99@yahoo.com
?Synopsis : Made up of 8 womens, the feminist group IPGIM plans a feminist art festival in the form of citizen participation.
The JongMyo Civic park is a place endowed with the gravity of Confucianism and the significance of patriarchy.
IPGIM takes the point of the past and of the dead who performed religious rites there.
With the theme of the birth of life from a woman's womb, IPGIM plan the "A-Bang-Gung JongMyo Seized Project"
which addresses the contemporary significance of JongMyo.
However, on the day of the event, the exhibition is obstructed and dissipated through the force by Lee Clan Family Association and Confucian party.
Even though IPGIM's festival is not held on that day, IPGIM united with feminiat, culture, and art groups plan to hold women's cultural festival, whereby all the ''bad women" will conduct a streeet march
in exactly one month later, on OCT.29 2000, at th JongMyo Civic park.
The series of performances will vividly convey the violence of patriarchy
that is stubbornly extant even now, and the images of the women who
stand against it.